Online Pastel Learning - Making Pastel Happen
Learn how to use pastels to create your own paintings, in a fully guided course or tutorial, for beginners to experienced artists. (Everything you wanted to know but didn't learn before painting with pastels.)
Enroll Now
Karol Oakley Artist and Tutor
Welcome, let me introduce myself and what I do for you.............
My joy is to help as many aspiring pastellists learn how to paint with pastels, giving confidence and skills while delivering quality learning and inspiration to artists of all ages.
As a course maker/creator I enjoy the freedom of pulling together my extensive teaching experience (20+ years) to write and record these guiding courses to help your art career.
My first thoughts on writing courses was plain scary. It seemed such an overwhelming task to set myself. A friend said to me "write the way you teach" in the live workshops. Now that's not to hard, as I tailor each workshop to the groups needs, so why not do the same for you in the online courses.
So the online courses are made on the same format and premise as the live workshops; that "we all want to learn, to become the best we can be".
The courses are filmed in my studio on a hilltop in the country. You may hear the bird song in the recording or the tinkle of the studio dogs' tags as he makes himself more comfortable. I mean really how many cushions does a dog need!
learn now rather than later.

Another thing you may recognize in these tutorials is that there is no art speak, no arty language that is to hard to understand. Words are plain and simple so we can all get the meaning.
Making these tutorials is a real pleasure for me as I get to sit down and work out how I can teach with clarity and be succinct, opps big word…. Be brief and clear and simple to understand. I do get excited about what I'm doing and will rush the words and do dumb things, but hey that's me. Writing is also creativity, and I am so happy to be a fish in this creativity stream.
I love to hear what you think; feedback is always important so I can keep tailoring these courses to make learning online easy and clear. My email is [email protected] if you would like to send me a note or a smile, I'd love to hear from you.
See you in school at www.onlinepastellearning.com
Best wishes, Karol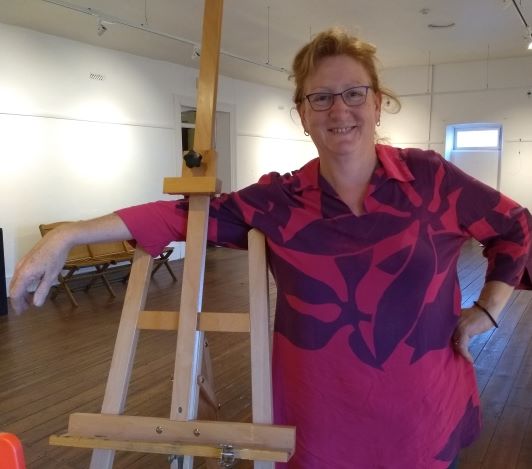 Your tutor, class maker and creator, Karol Oakley
See you in school!!
Questions and Answers About Online Learning that may help you out......
Why would you want to do an online course?
With our busy days taken up with work, family and "other" commitments it is hard to get time to yourself, let alone get away to a painting workshop for two days or more! The online courses here, are made as a service to you. They are made so you can stay at home, save money by not travelling, eating out and paying for accomodation.
Here at online pastel learning (OPAL) we make your learning experience available 24/7 so it fits in with your busy life. Most of the courses are there for you to access when ever you want and for as long as you want. It is said that 30 minutes a day is a great way to learn. Tailor your time to make it work for you.
What's different about these courses?
Each of these courses is made with your learning a priority. From my 20+ years teaching experience I am constantly creating ways to make the information you need, to the point and in plain simple language. There is no art speak and no tricky art terms left unexplained. These courses are easy to follow and understand.
How are the courses presented?
The courses are the same as if I was in the room with you. They are presented the same way I do a live workshop. Everything is demonstrated, explained and discussed. The extra special difference is that you can see in closer as Cecile DeMile zooms in on key parts of the demonstration.
Do I need to be an experienced pastel painter for these courses?
No. Each course will say what level of skill is needed to do them comfortably. Most of the courses are for those new to pastel or looking to refresh some skills and knowledge.
Who are the courses for?
They are for the curious,

For those who value knowing how to do something

For those who want to learn new skills.

They are for those who didn't know that they didn't know that.

The courses are for those who want to create paintings that look good and right.
What if I buy a course and don't like it?
There is a full money back guarantee on courses when you get back in contact within a week of buying. No questions asked But really, whats not to like!!
Can I do part payments on buying the course?
Most of the time you sure can. Each course shows if a part payment is available. The smaller cost courses are generally one-off payments.
Can I use PayPal or Credit/Debit card?
Yes you can use any of these. As a heads up, the courses are all in US dollars so that the PayPal option can be used.
Ready to try a free painting tip or mini course with out buying anything?
click "enroll now" button first and that's always your log in.

Then click on the one you want to do and go through the motions of "buy this course" except its free.

Start to view it and enjoy.
So you want to buy a course.......... here's how
click the "enroll now" button first, that's your log in for ever

click on the course you want

read the opening page

go to the bottom of the page and click on the payment icon you prefer.

do the payment thingy and you are ready to start straight away.

its your course 24 hours a day seven days a week for ever unless it says otherwise, and there is only one that says this.